Former Fresh Express and Chiquita Growth Driver Kurt M. Aken Joins AmplifiedAg to Lead Expansion of Vertical Roots
In a sign that vertical farming is reaching an inflection point, AmplifiedAg hires Former Fresh Express and Chiquita produce veteran, Kurt M. Aken, to grow its flagship brand, Vertical Roots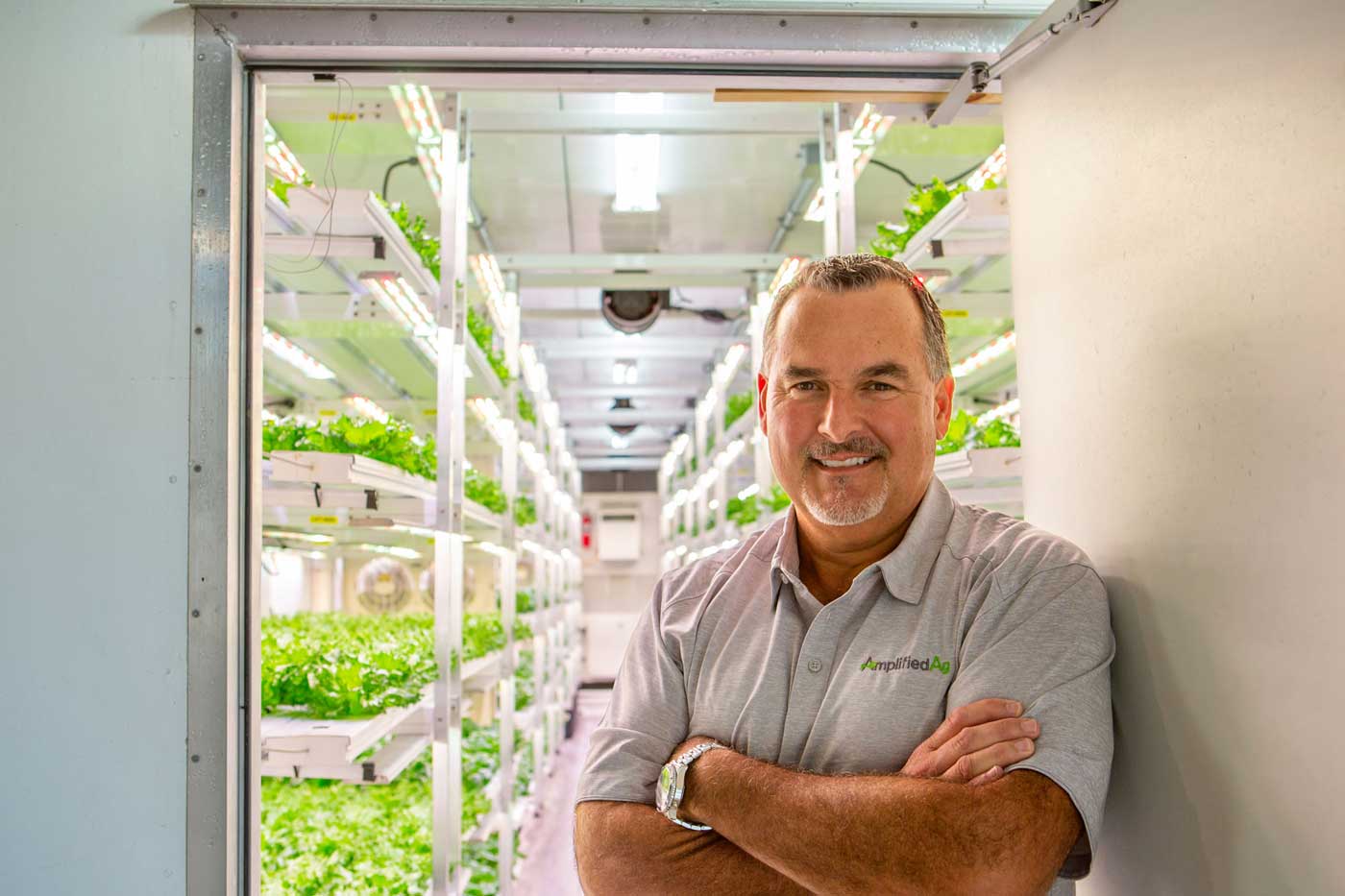 AmplifiedAg, Inc. a leading platform in the fast-growing category of hydroponic vertical farming – announces the hiring of industry veteran Kurt M. Aken to lead the growth of its Vertical Roots brand. Aken joins as Executive Vice President, Business Development following a successful 24-year tenure with two of the most recognized consumer produce brands in the United States – Fresh Express and Chiquita Brands International. Aken will be focused on supporting and extending the Vertical Roots hydroponic produce brand, which is currently sold in more than 1,700 retail locations in the Southeast United States.
"I, like many others in the produce industry, have been watching the evolution of vertical farming with intense interest," said Aken. "Vertical farming represents an important part of the future of sustainable food supply and produce capacity, and I'm inspired by AmplifiedAg's approach and leadership."
"AmplifiedAg's best-in-class technology, modular and scalable construction capability, and unrivaled growing expertise is the foundation of Vertical Roots success, and makes the most reliable partner for retailers and wholesalers looking for the best produce possible," Aken added.
Vertical Roots currently operates hydroponic container farms in Charleston, SC, Columbia, SC and Atlanta,GA, with more farm expansions on the horizon. Since January 2020, Vertical Roots has grown its retail footprint 272% and now offers its lettuce in approximately 1,700 grocery stores across the Southeast. The hydroponic produce line includes a variety of salad mixes and Green Butter, Green Oak, and Green Leaf Living Lettuces. The brand also recently introduced one of the first ever hydroponic varieties of large-leaf Romaine.
Vertical Roots produce is grown in hydroponic farms constructed from repurposed shipping containers, and leverages AmplifiedAg's proprietary software and hardware to optimize growing cycles and insure premier quality and consistency. Farms are built to USDA and FDA food safety standards, and the hydroponic growing method means no soil, no pesticides, and more nutritious, clean, longer lasting produce.
During Aken's career at Fresh Express and Chiquita Brands, he led the corporate account team that serviced leading grocery retailers across the United States. Aken was responsible for cultivating new business opportunities in nontraditional produce channels including foodservice, club and drug and discount store segments, as well as theme parks and cruise lines.
Andrew Hare, co-founder and general manager of Vertical Roots, said, "Kurt's extensive industry experience, including retail and customer insights, consumer trends, and supply chain management, will help us further accelerate the growth of our Vertical Roots brand. He is a recognized leader in the category and we are proud that he has chosen to join our company and work with us to advance our mission."
# # #
About AmplifiedAg, Inc.
AmplifiedAg, Inc.™ is a leader in the indoor agriculture category focused on empowering a scalable, resilient, and sustainable food supply and providing global populations with access to clean, fresh, and healthy produce. The company manufactures modular and scalable indoor farms using refurbished shipping containers and advanced hydroponic systems controlled by its proprietary hardware and seed-to- sale SaaS-based.
AmplifiedAg's flagship brand Vertical Roots is the largest hydroponic container farm in the world and currently sells its produce through more than 1,700 grocery stores and numerous distributors.
In addition to powering its flagship brand Vertical Roots, AmplifiedAg provides holistic indoor farming solutions to sustainably grow and distribute food anywhere in the world.  Learn more at www.amplifiedaginc.com.
Media Contact:
Emily Trogdon
emily.trogdon@amplifiedaginc.com
(843) 687-0706